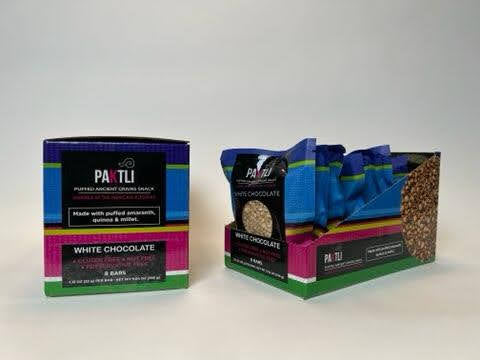 Product Description
We use organic puffed ancient grains of amaranth, quinoa and millet combined with dark chocolate, milk chocolate, white chocolate, or bittersweet chocolate mixed with a variety of dried fruits and nuts to make a healthy on-the-go snack.
PAKTLI Puffed Ancient Grain Snack- White Chocolate (8-Pack + 2 Puffs)
Product Details
We use delicious puffed ancient grains amaranth, quinoa and millet combined with creamy white chocolate to create a balanced & fulfilling snack that satisfies your sweet tooth.
Also included are 2 Paktli Puffs, made with the same delicious puffed ancient grains as our regular Paktli, but now you can sprinkle them onto your yogurt, cereal, caramel, ice cream, and more!
Perfect for those who need tasty energy on the go.

PAKTLI means JOY in Nahuatl, the language of the Aztecs, one of the ancient cultures that revered amaranth. I grew up in Mexico eating ALEGRIAS (which also means JOY!), a snack dating to the 16th century made from puffed amaranth and honey or chocolate. PAKTLI is my version of the ancient Mexican alegrías. I use puffed amaranth plus puffed quinoa and millet, highly nutritious ancient grains that are also considered superfoods. I mix the grains with high-quality organic ingredients including chocolates, and whole dried fruits and nuts. Never any additives. Always preservative-free. I hope you enjoy and that your days are filled with PAKTLI. -Seena Chriti
Our Organic Ingredients:
White Chocolate

Ancient Grains (Puffed Amaranth, Quinoa, and Millet)
What It Is:
100%

 

Organic Ingredients

Gluten

 

Free
Made with

 

love
What It Isn't: